Since Starbunny, Inc. takes place in the fictional world of Hoppiton, I didn't expect how much real world reference would end up going into the art process! I've taken tons of photos and pulled from various reference from all over the galaxy!
Here's a step-by-step look at one of the busiest panels so far…
I wrote page 37 (like all the others) as thumbnails, with loose drawings hinting at backgrounds, but leaving the specifics for later.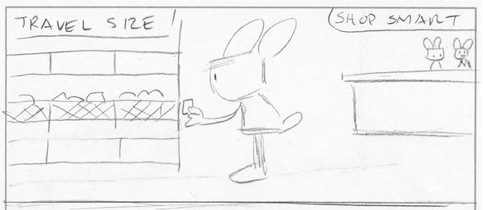 Before I began penciling, I did a scouting trip to the travel section of my local CVS. I took photos from several angles to see which would work best.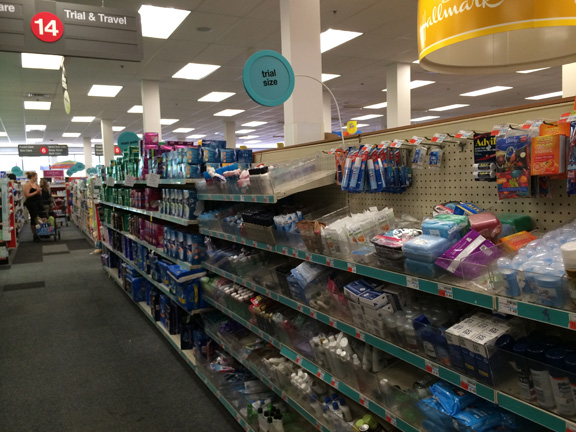 I penciled and inked the main character (using a Windsor Newton brush and Speedball India ink), indicating where the background would go. I really wanted to capture the specific feel of the travel section, so I decided to try and finish the panel in the digital stage.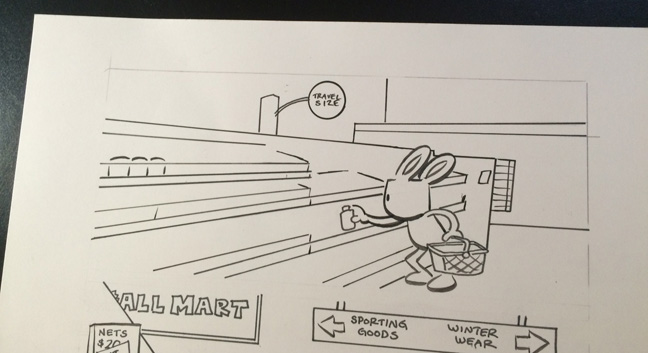 I pasted my inked drawing over the photo, and basically traced the rest of the background. I had to strategically remove certain details as things got too cluttered or hard to read. I began to envision Blue starring in a Who Framed Roger Rabbit-style story!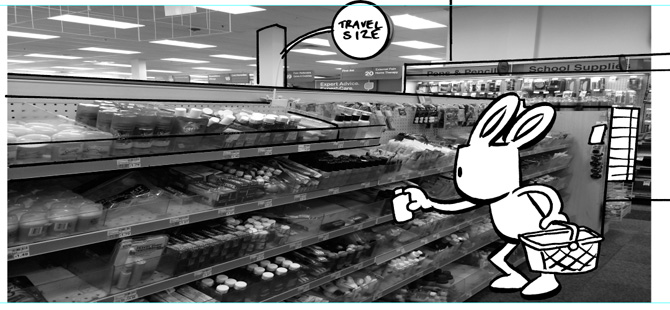 This is the first time I've ever drawn a background digitally before, so I had some concerns about whether or not I'd need to go back and hand-draw all the items! I was worried that the organic nature of the figure and the mechanical nature of background lines might be too much of a contrast. But after noodling with it for a while, I realized the color would help bring the two closer together.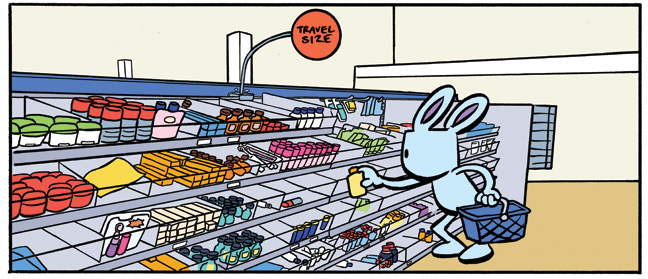 The final inks were sent to Alexandra Graudins, who has been helping with the color flatting on Starbunny, Inc. She always does a great job, and on this page her attention to detail was especially appreciated!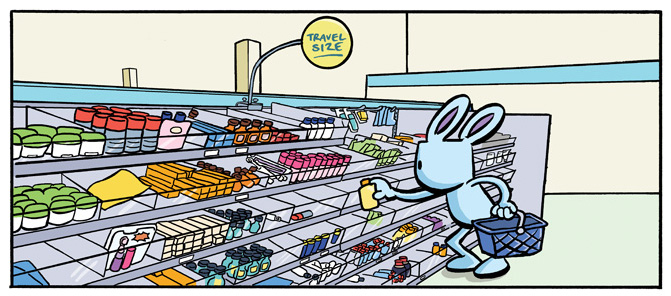 I played around with different color schemes, to avoid the department store looking too similar to Manny's Appliance Hut, which was already established as having warm reds, oranges, and beiges.  Since this was a silent page, I didn't have to worry about the type or word balloons. At this point, I was pretty much ready to convert the file to a jpeg and post it on the site to share with you!
You can see the final panel in its sequence HERE!